KASHMIR TRAVEL GUIDE

The Valley of Kashmir, A place in the lap of mighty Himalayas, surrounded with heavenly picturesque landscapes and blessed with marvelously beautiful environmental blessings.
If you are planning a trip after the stressful period of the pandemic, Kashmir is a place you should add to the top of your list, a trip to Kashmir will not disappoint you.

ROUTE

You can choose between flight, train and road routes.
BY AIR – Srinagar Airport connects other major cities to Kashmir via Flight.
BY TRAIN – in present, there is no railway station in Srinagar; the nearest station is Jammu Tawi that is approximately 300 kilometers away from Srinagar City.
BY BUS/RIDE/ROUTE – NH1 and NH44 connect the valley to the major cities of India via road.

THINGS TO DO IN KASHMIR

The Valley of Kashmir will not disappoint you either you are a foodie, history lover, passionate about architecture or adventure; there are lot of options available here for everyone to do during their trip/stay.
DAL LAKE – a Shikara ride on the magnificent waters of the world famous DAL LAKE is a moment to cherish. You can also stay on a houseboat and can witness the beauty of surroundings in early morning and especially the famous floating market.
AVANTIPUR TEMPLE – the temple was founded by King Avantivarman, though the place has been reduced to ruins but for the History lovers out there that's a treasure.
KOLAHOI GLACIER – and for the adventure lovers out there, here is Kolahoi Glacier, after an arduous trek that will give you the adrenaline rush, the views, at 18,000 feet, will take your breath away (literally).
GADSAR LAKE – the lake is a high altitude lake that serves as a popular trekking base and trout fishing centre also.
MUGHAL GARDENS – after all these activities, a walk among the beautiful gardens established By Mughal emperors, located on the different sides of the DAL LAKE, separately known as NISHAT GARDEN, SHALIMAR GARDEN AND CHASHM-E-SHAHI, will give you a soothing and calming experience and some picture perfect memories for sure.
GULMARG– this destination offers various activities like Skiing, Trekking and Golfing also, with the GANDOLA ride that will give you an exotic view of GULMARG from a 10,000 feet distance. The Gondola ride is one of the highest and longest cable car rides of Asia. The cable car ride works in two stages, the first stage of Gulmarg to Kongoori takes around 9 minutes and the second phase of Kongdoori to Apharwat Peak takes around 12 minutes.
And for the foodies out there, the delicacies of Kashmiri Cuisine will not disappoint you. And some notable ones are;
KASHMIRI WAZWAN – a multi course meal, making of which is considered as an art and a skill to be proud of in Kashmiri culture.
ROGAN JOSH – a non vegetarian cuisine of lamb based spicy curry.
YAKHNI – again a lamb based cuisine with curd based gravy.
KAHWAH/NOON CHAI – the traditional beverage of Kashmir.
And for the explained information about the destinations that you should visit in Kashmir , you can check out our other post titled as Kashmir tourism here.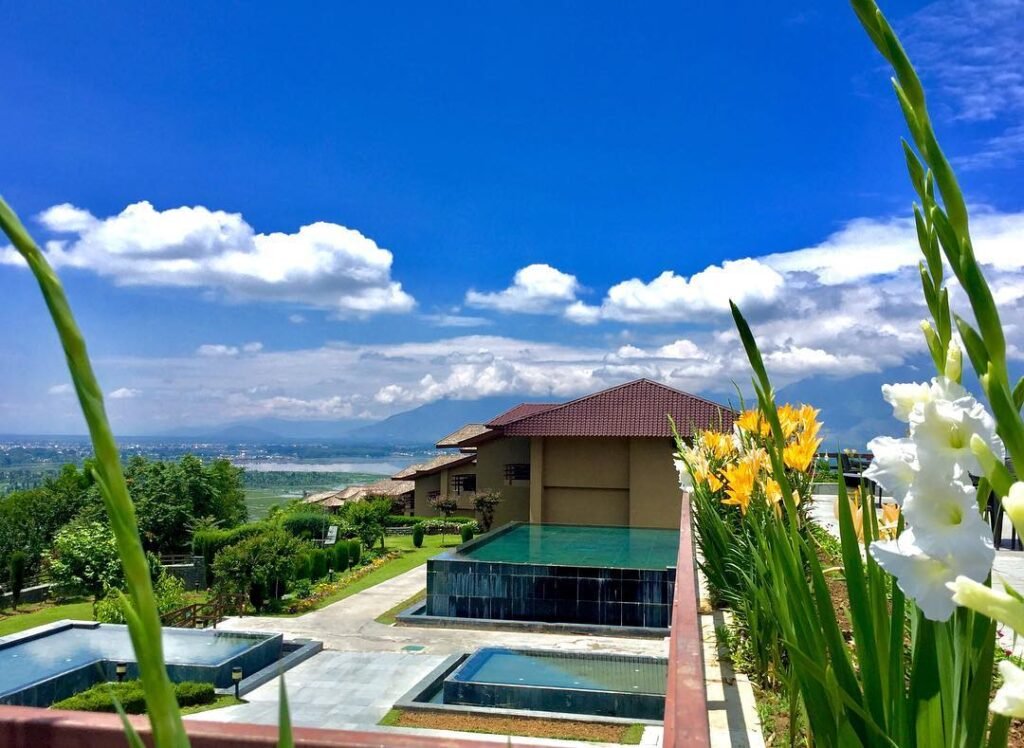 TO GO AROUND
Luxury coaches for the purpose of sightseeing are available as well as tourist taxis and minibusses, for the commuting Auto rickshaws are an easily available option too.

WHEN TO GO
The beauty of the Kashmir Valley is astonishing in every weather and every of the year but the best time to visit the valley is during winter, from October to February, because in the winter season, you have the opportunity to enjoy snowfall, skiing, gondola riding, and other fun and adventure activities.
For the flora lovers, you can plan a trip during the beginning of April as this is the month of the TULIP FESTIVAL in Srinagar.
And if you are not a fan of winter and snow, you can choose the duration of autumn, we do have a separate article about the beauty of Kashmir during autumn, you can check out that post here for some more explanations.
Any mistake/comment/suggestion/advice/feedback is and always will be welcomed, you can pour your hearts out and thoughts in the comment section or write to us at our mentioned email, we will respond to it as soon as possible. Do not forget to check out our other posts here at thekashmirvalley.com
Some of our articles you may like :
"Kashmir Travel Guide" Written by Muba Noor
Feature Image Photographer : Zaheen Guna