Kashmir great lakes trek is a hidden gem in the valley of Kashmir, that is becoming popular day by day for various beautiful reasons and today we will talk about the Kashmir great lakes trek as well as the beauty of Kashmir valley.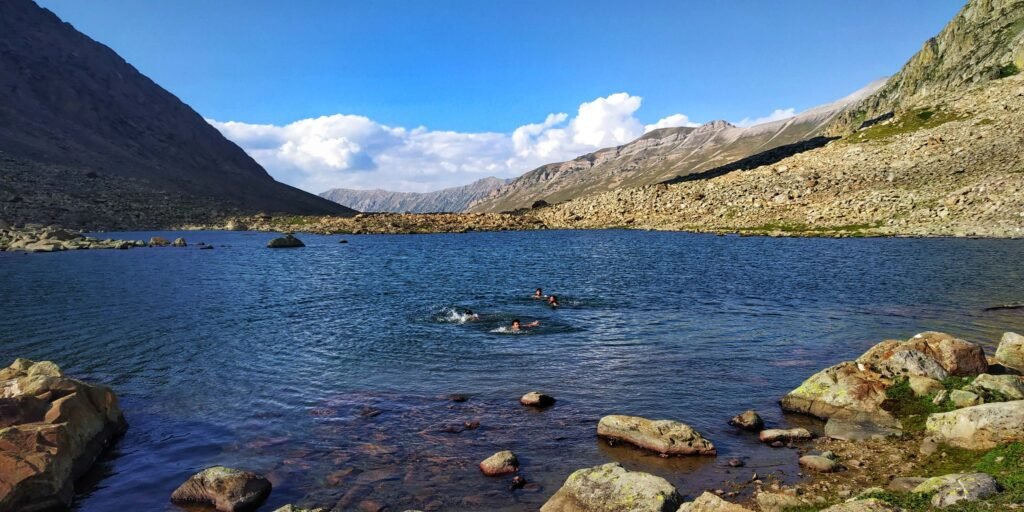 Situated in a beautiful canvas at 75 km northeast of Srinagar, Kashmir great lakes trek is a 360˚ panorama of rugged mountains and turquoise alpine lakes.
The most interesting and exciting thing about the Kashmir great lakes trek is that you are getting the chance of exploring five different valleys and seven lakes!!
Kashmir great lakes trek is a moderately difficult trek of duration up to seven days.
In simple words, Kashmir great lakes trek is not suitable for beginners because the trek has steep ascents, long trekking days and one will be facing the descents with no easy exit points.
But the view will be worthy of every challenge and difficulty because you will be facing a new alpine lake every day, now imagine, snow patches sliding off from the serrated mountains into the lake, and those milky white icebergs floating on the surface of turquoise blue waters, that's the view you will be facing during Kashmir great lakes trek, the view will surely be worthy of every challenge.
And not only lakes, you will be looking forward to a lot of meadows, of every shape and size.
Here is an exemplary schedule of what you will be doing in a span of 7-8 days;
Day 1. Drive from Srinagar to Kashmir great lakes trek base
Day 2. Trek to Nichnai
Day 3. Trek to Vishansar Lake
Day 4. Hike to Kishansar lake and back
Day 5. Trek to Gadsar
Day 6. Trek to Mengendhop via Satsar
Day 7. Trek to Nundkol lake
Day 8. Trek to Naranag
And at the end, a 60 km drive to Srinagar
The valley of Kashmir is well known for its magnificent beauty and Kashmir great lakes have a scale of their own because you will be experiencing the beauty of seven different valleys in 7 days. Among the 7 different valleys, six are distinct grasslands or meadows that are connected to one another via high passes.
You will be starting with the views of Maples and Birch trees of the Shekdur meadows, after that, the view of Nichnai grasslands will make you amused about how massive and rugged meadows can be, cross the Nichnai pass and you will be looking forward to a view that you really don't want to leave any time soon.
The Vishnusar grasslands, that's the view you will be looking at, beautifully wide grassland, with a river flowing gently in the middle, descending laden of wildflowers, the scene that makes you wonder if you are in a dream or something like that because of its beauty.
Coming up next will be The Gadsar meadow, with jagged mountains lining on either side, Gadsar meadow will give you some dramatic vibes. Flowers in the entire valley in wild abandon with many smaller lakes.
Climb up, and then Ladies and Gentleman, you will be looking at a view that resembles the "windows wallpaper", smooth green grass that looks like it is manicured recently, horses enjoying the graze, and a few maple trees in the background, you are looking at the Satsar meadows, this scenery will make your every penny and effort worthy.
The final view that you will be looking at looks like Africa but in blue!! The Gangabal expanse almost looks like a world map in green from Zaj pass. With Nandkol at its side, final views will be more exciting!!
We cannot end the talk of the Kashmir great lakes trek without talking about the lakes. During the Kashmir great lakes trek you will be looking at some best lake sceneries in the world, high altitude lakes with crystal clear waters that change color throughout the day, crystal clear at dawn, then sea green to light blue to inky blue by the evening. The sea-green Gadsar Lake, Gangabal along with its twin Nandkol Lake, the twin Vishnusar and Kishansar lakes, the views, and sceneries of these lakes will mesmerize you unbelievably.
BEST TIME FOR THE KASHMIR GREAT LAKES TREK
The best time of the year to do the Kashmir great lakes trek is the beginning of July to September. And for the fact, that's the only time you can do the Kashmir great lakes trek because, in all the other seasons, the treks are buried under snow.
The time may look confusing to you as it is the time of monsoon in every other part of the country, but the Pir Panjal Range actually separates Kashmir from the rest of the Indian subcontinent.
Pir Panjal Range is 288 km long and 40-50 km wide, thus it blocks the rain clouds from crossing over into the valley of Kashmir, and because of these weather conditions, Kashmir stands different from the rest of the country.
In July, the peak summer season in Kashmir, the upper reaches of the Kashmir great lakes trek starts showing out of the snow sheets, though the snow remains still at higher altitudes like Nichnai pass and Gadsar the trek remains more or less accessible.
As the snow melts, the meadows begin to look colorful with the appearance of beautiful flowers, during the Kashmir great lakes trek you will be looking at lush green meadows with alpine lakes that are still frozen in some parts.
After mid-July, most snow has melted and you can expect bright sunny mornings and some evening showers.
DIFFICULTY LEVEL OF KASHMIR GREAT LAKES TREK
As mentioned already, the Kashmir great lakes trek is moderate-difficult; this trek climbs to 13,800 feet with long trekking days and steep climbs in between.
You will be covering a total of 74.4 km in a span of over 6 days, and you will trek 12 km every day, you will be climbing 1500 feet and descending 1500 feet every single day of your trek span.
You will be facing these 3 most difficult sections on Kashmir great lakes trek;
On the very first day of the trek, you will be covering more than 3,000 ft in a span of 6-7 hours. This climbing will surely test your endurance on the very first day.
This climb is steeper and arduous, you will climb in a series of switchbacks, and you have to have mental as well as physical toughness and endurance to keep going.
Boulder section in between of Satsar to Gangabal
You will be experiencing a 40-minute long section that is filled with big boulders. Without any trial, you will have to hop, skip and jump to cross it.
SAFETY/RISKS
Kashmir great lakes trek goes deep into the valley with a long distance of 65 km, after crossing 3 high passes, the highest altitude you will go up to is 13,800 ft.
You will be crossing several boulders and streams.
The most important thing you will need is good physical as well as mental abilities because the Kashmir great lakes trek is rugged and filled with steep ascents and descents.
There is no easy exit point after Vishnusar, so be prepared and well informed.
Pay close attention to your body for altitude sickness symptoms, in case you feel sick, do not take it lightly, take curative measures, check oxygen levels, drink water, and take rest, if you do not feel normal anytime soon, do not move further on the trek.
If you are struggling to keep up with the first two days, turning around from the Vishansar lake campsite is highly advisable because moving further will make the evacuation and exits very hard in case of emergency.
In case of a medical emergency, the closest hospital is at Sonamarg, Baltal, or Kangan, for better medical facilities, you should head to Srinagar.
THINGS TO PACK FOR KASHMIR GREAT LAKES TREK
At least 3 woolen layers/clothes in summer and 5 layers of woolen clothing in winters.
3 t-shirts and 2 trekking pants (do not overload yourself)
Thermals to keep you warm at night
Sun cap for mornings and woolen cap or balaclava for evenings and night
Neck warmer
Sunglasses
Water resistant synthetic gloves and sport socks
Poncho
Headlamp or torch
Trekking pole
Toilet kit and medical kit
Your own cutlery (a mug, a lunchbox and a spoon)
Two water bottles
A pair of extra slippers to use at campsite
Spare zip locks or plastic bags
A face towel (light one)
Small foldable backpack
A 55-60 liter backpack (to pack everything)
Do not overload yourself as you will be climbing with a backpack on your back; try to keep things as minimal as you can.
Be prepared and well informed, plan everything in advance to make your trekking trip as smooth as possible, accept the challenges while keeping your own safety as well as of others in mind.
The Kashmir great lakes trek will give you some amazing and beautiful memories to cherish and some challenges to endure and win. Kashmir great lake trek will give you an amazing experience for sure.
Do not forget to tell us your thoughts about our work/post in the comment section, or you can mail us at our mentioned email, we will reply to you as soon as possible, and do check out our blog and trending section for various traveling destinations and guides. Till then;
Be happy, be safe.
Some of our articles you may like :
"Kashmir Great Lakes Trek"